The Acoustic Guitar Meeting in Sarzana has just finished and we are ready for a new event: THE ACOUSTIC GUITAR VILLAGE, within the annual lutherie Show CREMONA MONDOMUSICA
ACOUSTIC GUITAR VILLAGE, AN EXHIBITION AREA OF CLASSICAL AND MODERN ACOUSTIC GUITAR
From 26th to 28th September 2014, inside the 27th edition of Mondomusica, a dedicated exhibition space will be given to the guitar, a village, with national and international luthiers, small and large manufacturers and distributors of top brands, accessories and publishing.
Guitar and luthier associations, organizations, institutes and training schools will be present.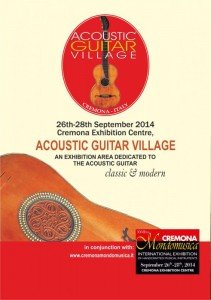 There will also be themed exhibitions, presentations of instruments of high historical and artistic value, meetings, conferences, master classes, concerts and various events with the guitar as the main protagonist.
There will be international guests and performances by great guitarists.
Coordinator of the guitar exhibition area will be Alessio Ambrosi, who created and has coordinated with his organization, since 1998, the Acoustic Guitar Meeting in Sarzana, Italy, one of the most important annual international events in the field.
For information please contact info@armadilloclub.org
phone: +39 0187 626993.
Download info on stands and price list
Download application/registration form stand type 1-2
Download application/registration form stand type 3

Acoustic Guitar Village on www.cremonamondomusica.it  website
We wait for you in Cremona on 26-28 September 2014!!