Work in progress for the organization and the program of the 18th edition of the Acoustic Guitar Meeting. For updated information, please use the 2015 edition link.
The exhibitors who want to confirm the 2014 stand/booth are requested to do so before December 31.
Watch the exhibitors dedicated page for information.

Special prices for the accomodations in Sarzana. Visit the dedicated page with a list of hotels, bed & breakfast, etc.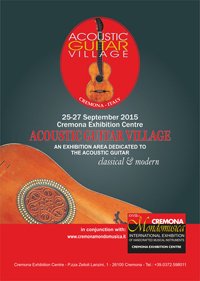 We would like to remind you that in 2015 we will be organizing again the 2nd edition of the Acoustic Guitar Village within Cremona Mondomusica, scheduled from the 25th to the 27th 2015 at Cremona Exhibition Center.
– special price for the exhibitors who will partecipate in both the Acoustic Guitar Meeting in Sarzana (May 27-31) and Acoustic Guitar Village in Cremona Mondomusica (September 25-27).
We will send information soon!
As always, in January 2015 we will visit the NAMM Show in Anaheim, Los Angeles US, and in April the Musikmesse in Frankfurt. We will be available and happy to meet you there.
See you in Sarzana on May 27-28-29-30-31!!