Dear Friends,
a few lines to get in touch with you for the next 2017 edition of the Acoustic Guitar Village in Cremona. The last 2016 edition has been very successful, confirming the positive path for the Italian acoustic guitar scene that we started in Sarzana 20 years ago.
Please take note that the 2017 edition of the AGV will take place on September 29th,30th – October 1st inside Cremona Musica International Exhibitions in the Cremona Fair pavillions.
Masterclasses, workshops, seminars, historical guitars exhibition, daily concerts and demos and many other activities will happen inside the AGV.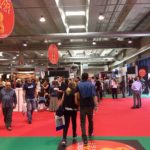 A very special evening concert with international artists will take place at the beautiful historical Teatro Ponchielli in Cremona on Friday September 29th!
We are ready to visit the upcoming NAMM Show in Anaheim CA, happy to meet you and present the event. Please feel free to contact us for an appointment: info@armadilloclub.org
Best wishes and we hope to hear from you!
Staff at Armadillo Club, Sarzana, Italy
Tel/fax: +39 0187 626993
www.acousticguitarvillage.net
www.cremonamondomusica.it/acoustic-guitar-village/
www.armadilloclub.org
www.facebook.com/acousticguitarvillagecremona
www.facebook.com/AcousticGuitarMeetingVideos
www.facebook.com/armadillo.livemusic